Catholic Education strives to make a difference in the lives of those in our schools and in the wider community by challenging young people to live out the message of Jesus and to reach their full potential as compassionate, contributing, life-giving members of society. All classes have made a special effort to ensure everyone appreciates how lucky they all are to be a part of St Mary's Catholic School. Students have also realised how blessed they are to have great friends, teachers and parents. The students have performed random acts of kindness, made bookmarks and cards for people in Aged Care facilities and written thank you letters to many staff members and essential workers in our community. Year 3 collected a range of items for the backpackers who were recently affected by the fire at Federal Backpacker Hostel. Year 1 walked around the surrounding neighbourhood dropping off letters to nearby residents.
Each year during Catholic Education Week we have the tradition of awarding the St Mary's School Spirit Award to students who uphold the values and characteristics of our School Mission Statement and the St Mary's Way. These students are nominated by the staff. This year, these three girls were nominated by many teachers which reinforced their worthiness as being nominated as the recipients of the St Mary's School Spirit Award. Congratulations to Annika, Madison and Addison!!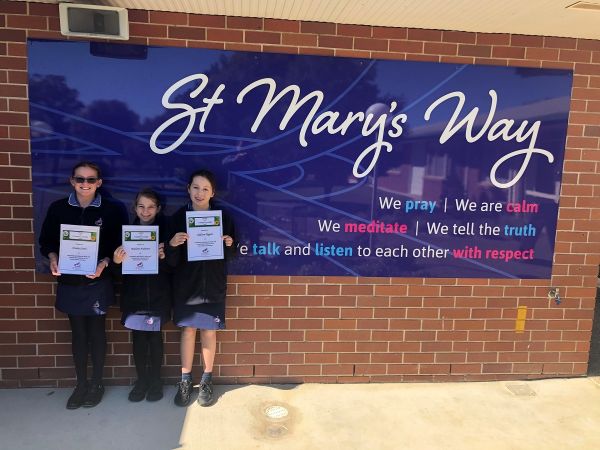 Please click the following link to read the Bundaberg Now article about our Year One classes delivering messages of kindness to our school neighbours.
Bundaberg Now: Letters of kindness from St Mary's students